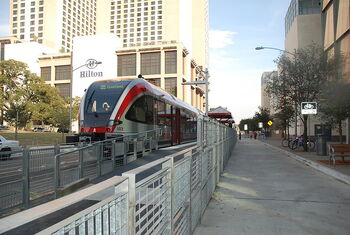 Capital MetroRail
is a commuter rail system that serves the Greater Austin area in Texas, and which is owned by the Capitol Metro. The Red Line, Capital Metro's first and only rail line, connects Downtown Austin with Austin's northern suburbs. The line operates on 32 miles (51 kilometers) of existing freight  tracks, and consists of nine stations. After a series of delays, Capital MetroRail was inaugurated in March 2010.
Daily ridership during the first nine months was approximately 800 riders per weekday, although it had doubled to 1,600 by its first anniversary. Capital Metro added additional runs during midday beginning in mid-January 2011. Capital Metro added Friday evening and Saturday afternoon and evening regularly scheduled service on March 23, 2012.
Ad blocker interference detected!
Wikia is a free-to-use site that makes money from advertising. We have a modified experience for viewers using ad blockers

Wikia is not accessible if you've made further modifications. Remove the custom ad blocker rule(s) and the page will load as expected.