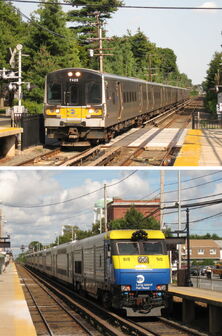 The Long Island Rail Road (reporting mark LI) or LIRR is a commuter rail system serving the length of Long Island, New York, stretching from Manhattan to the easternmost tip of Suffolk County, New York. It is the second busiest commuter railroad in North America (only recently surpassed by its sister railroad, Metro North), serving about 81 million passengers each year. Established in 1834 and having operated continuously since then, it is the oldest US railroad still operating under its original name and charter. There are 124 stations on the LIRR, and more than 700 miles (1,100 km) of track on its two lines to the two forks of the island and eight major branches. Each weekday, the LIRR provides more than 303,000 rides to customers. It is publicly owned by the Metropolitan Transportation Authority, which has styled it MTA Long Island Rail Road. The current LIRR logo combines the circular MTA logo with the text Long Island Rail Road, and appears on the sides of trains. The LIRR is one of two commuter rail systems owned by the MTA; the other one is Metro North Railroad.
The LIRR is the only commuter passenger railroad in the United States to operate 24 hours a day, seven days a week, with significant off peak, weekend, and holiday service.
Ad blocker interference detected!
Wikia is a free-to-use site that makes money from advertising. We have a modified experience for viewers using ad blockers

Wikia is not accessible if you've made further modifications. Remove the custom ad blocker rule(s) and the page will load as expected.