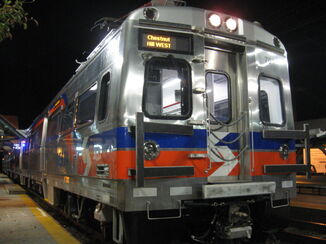 The SEPTA 'Regional Rail' system (reporting marks SEPA, SPAX) consists of commuter rail service on 13 branches to more than 150 active stations in Philadelphia, Pennsylvania, and its suburbs. Service on most lines runs from 5:30 a.m. to midnight.
The core of the Regional Rail system is the Center City Commuter Connection, composed of three Center City stations in the "tunnel" corridor: the above-ground upper level of 30th Street Station, the underground Suburban Station, and the Market East Station. All trains stop at these Center City stations; most also stop at Temple University Station on the campus of Temple University in North Philadelphia. Operations are handled by the SEPTA Railroad Division.
Of the 13 branches, seven were originally owned and operated by the Pennsylvania RaiIroad (PRR) (later Penn Central), and six by the Reading Company (RDG). The PRR lines terminated at Suburban Station; the RDG lines at Reading Terminal. In November 1984, the Center City Commuter Connection united the two systems, turning the two terminal stations (Reading Terminal having been replaced by the Market East Station) into through-stations. Most inbound trains from one line continue on as outbound trains on another line. (Some limited or express trains terminate on one of the stub-end tracks at Suburban Station.)
Ad blocker interference detected!
Wikia is a free-to-use site that makes money from advertising. We have a modified experience for viewers using ad blockers

Wikia is not accessible if you've made further modifications. Remove the custom ad blocker rule(s) and the page will load as expected.